Where buyers and sellers meet
Welcome to the newly expanded FreeShopper and Vital Times Publication. We look forward to serving your advertising needs.
We are a free bi-weekly publication distributed between downtown Chicago and the Wisconsin border. We are the most widely distributed free paper in the region. We offer free web listings and links on our heavily trafficked web site.
Be part of our reasonably priced, long established, abundantly distributed paper and site. We offer many specials and packages. You can view our entire publication online at: www.FreeShopper.com . Contact us now. 847/675-2577
Thank you,
advertise with us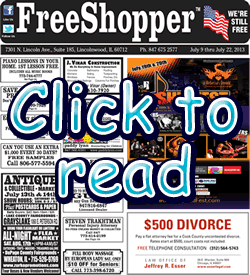 Click here to see the current issue
FreeShopper Ad Paper & Vital Times
7301 N. Lincoln Ave. Suite 190
Lincolnwood, IL 60712
Phone: (847) 675-2577
Fax: (847) 675-2575
Click Here for Map